"Gregg Cockrell takes readers on a fascinating personal journey back to a tumultuous time when he wrestled with issues of conscience and conviction, and when whole generations of young Americans did the same, sorting out on their own the real-time, real-life meaning of words like patriotism, dissent, and sacrifice. Every American who lived through Vietnam faced choices, and those choices helped shape who we were and who we became. Some who avoided service did so through deferments or conveniently crafted doctor's letters. Many more didn't have those options. Others served, some protested, and some did both. Gregg's journey is the story of someone who acted out of great personal conviction, and experienced with it his own kind of personal sacrifice, and now he's sharing those lessons with all of us." — John Kerry, Former United States Secretary of State
"This is much more than the memoir of a man who avoided the military draft. It's a fascinating travelogue and a heartfelt coming-of-age story." — Jack H. Jacobs, retired colonel in the U.S. Army and Medal of Honor recipient for his actions during the Vietnam War
"Gregg's story reminds us that patriotism shows itself in various ways, and for him and many other patriots, despising the Vietnam war was one of those ways. Draft Dodger is a timely historic example of the importance of a free press and an informed citizenry." — Daniel Ellsberg, Author of Secrets: A Memoir of Vietnam and the Pentagon Papers
"Gregg Cockrell's book about this sad time in our country's history is an important document. He pulls back the curtain to reveal the systematic sending of American men and women to fight a very unpopular war. So, take a step on this journey with Gregg…I did, and it's very enlightening." — Graham Nash, singer-songwriter and musician
Gregg Cockrell, an Emmy Award-winning former producer for MSNBC, has provided his book Draft Dodger: How Far I Traveled to Avoid the Vietnam War to The Travel Tribune for publication. This memoir chronicles how he dodged the Vietnam War and traveled around the world for an action-packed year filled with life-changing experiences.
Summary of Draft Dodger: How Far I Traveled to Avoid the Vietnam War
Draft Dodger is not only the story of how I successfully evaded the draft during the Vietnam War; it is the story of how I stood by my convictions and did what I believed was the right thing to do at a defining time in my life.
I wasn't your typical draft dodger. I never burned my draft card, and I wasn't willing to go to jail for the cause. I couldn't claim any physical disability or religious objection to war. I simply refused to be forced into the military and risk my life for what I, like many others, had come to believe was an American tragedy.
All of the choices I faced in 1971 were bad ones. After drawing a low number in the draft lottery, I realized that I would certainly be drafted. I exhausted every possible stalling tactic with my draft board and reached the point where I either had to comply or become a fugitive. I chose to leave the country, and I knew it was a decision that could have cost me my citizenship.
I went to Europe for a couple of months, but I soon wound up in Africa where I lived and traveled for nearly a year. A Selective Service attorney I'd spoken to advised me to keep in touch with my draft board as the law required, so I wrote to them from places like Paris, Amsterdam, Madrid, the Canary Islands, Casablanca, Cairo, Khartoum, Nairobi, and Dar es Salaam.
Draft Dodger isn't your average hippie travel tale. It is a unique, sometimes surreal, coming-of-age story set in a tumultuous time in American history. Adventures along the way range from a night spent partying on top of one of the Great Pyramids in Egypt, to an unforgettable cruise up the Nile River into Sudan following a brief lull in their civil war, to a life-threatening run-in with Idi Amin's Secret Police in Uganda.
Note: The author has changed the names of some people mentioned in the book.
READ THE INTRODUCTION OF DRAFT DODGER BY GREGG COCKRELL
Author Biography: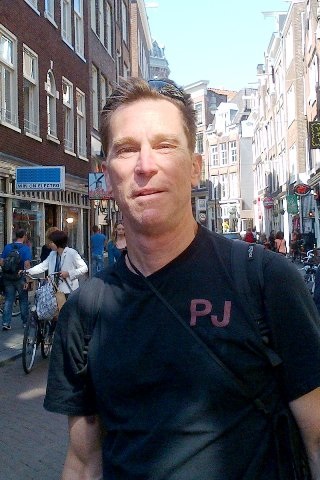 Growing up with Southern California as a backdrop, Gregg Cockrell was never really sure what path he wanted to take.
One day, on nothing but a whim, he decided to attend the Columbia School of Broadcasting. He promised himself that he would take it seriously and give nothing less than 100%. Gregg's dedication paid off with an entry-level job at KFI AM 640 radio in Los Angeles, where he was assigned to The Tom Leykis Show. From there he moved his family to New York City and produced The Gil Gross Show on the CBS Radio Network. The skills he acquired and the contacts he made brought him to the busy newsroom of MSNBC.
For 18 years he worked side by side with many of MSNBC's on-air personalities including Joe Scarborough, Keith Olbermann, Brian Williams, Ed Schultz, and Chris Hayes. While viewers of news programming are often familiar with the names of anchors or experts, they rarely think about the people who put tremendous energy into making news interviews happen. If you ever watched MSNBC, chances are that you might have seen the end result of Gregg Cockrell's efforts.
The number of celebrities and influential people Gregg has crossed paths with is inestimable. If you ask him to pick his three fondest memories, he'd tell you that it was meeting President Bill Clinton and First Lady Hillary Clinton at the White House Christmas Party, doing the first live radio show at the Rock and Roll Hall of Fame in Cleveland, and covering the Kosovo War from Albania.
It hasn't been an easy life for Gregg. For 20 years, he and his family struggled with caring for their severely disabled son, Will, who was born without an immune system and was never able to eat, speak, or get out of bed. The constant attention he required took an enormous toll on the family. Will passed away on April 1, 2015.
READ THE INTRODUCTION OF DRAFT DODGER BY GREGG COCKRELL