[
]
Dylan Lauren, founder and creator of the Dylan's Candy Bar enterprise, was inspired to create a gigantic candy store by watching Willy Wonka & the Chocolate Factory on her fifth birthday. It also doesn't hurt that she is the daughter of billionaire fashion designer, Ralph Lauren.
The delicious destination carries over 7,000 varieties of candy and has been buzzing with great success since it opened in 2001. Currently it is expanding into other cities and even appearing in some airports around the United States.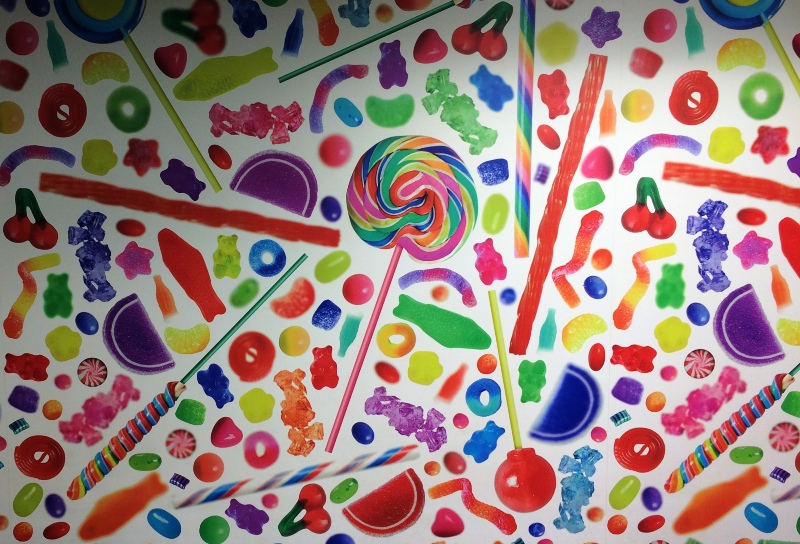 If this store were truly in the spirit of Willy Wonka, then where's the lickable wallpaper? Sure, there is candy covered wallpaper all over Dylan's. It even looks lickable, but putting your tongue on it could result in diphtheria, although there is no medical research to support that claim. By the way, here's something to ponder. Who was creepier as Willy Wonka: Gene Wilder or Johnny Depp?
Here are the positives (see below for the negatives):
The candy embedded stairs: The store has three floors. When you enter, you're on the main floor which is also the middle floor. Translucent stairs made of resin and embedded with candy lead you upstairs to the ice cream shop and the cafe or downstairs to where the best displays are located. Be sure to look for the landings with the phrases "stairway to candy heaven" and "May each step you take be sweet."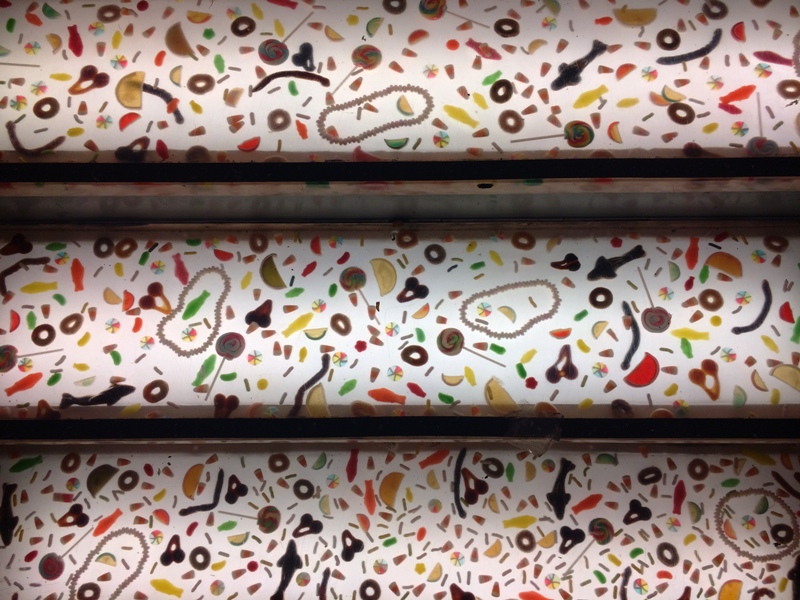 The 3-D gummy printer: On the lower level, a machine "prints out" 3-D gummy candies. You can choose one of Dylan's standard designs or use your own. There is plenty of creative control over the colors, flavors, and shapes, plus you can still eat them even if you have a variety of diet or allergy issues. 3-D gummies are all-natural, vegan, kosher, gluten-free, and are made without nuts or dairy products. They cost $20 and take about 10 minutes to make.
Weird & unusual Items: No need to buy Snickers or Skittles when you can find Legally Addictive Crack Cookies (Part Cracker, All Cookie), Toxic Waste Hazardously Sour Candy, and Orthodox Chews (during Passover only). Dylan's even wanders into the world of sexy lingerie with candy-themed thongs, camis, and boy shorts under the clever brand name "Hanky Panky."
The cocktail bar: This is one of the biggest surprises in the entire store. If you didn't know about it in advance, you wouldn't see it coming. The bar is oddly wedged between the ice cream shop and the cafe. Unlike them, it's rather classy.
The cocktails are all a peculiar combination of something very sweet and something really boozy. What kind of addict envisions combining vanilla vodka with vanilla ice cream? The risk-averse should probably stick with the traditional beer, wine, and spirits.
The Famous Favorites showcase: There are 250 small, plastic boxes with the names of celebrities, their profession, small stock photos, and (in most cases) autographs and messages signed with a Sharpie. Each box is filled with the celebrity's favorite candy.
The range of celebrities is pretty wide, and they have varying levels of fame. The boxes are not in any sensible order, although it looks like someone once halfheartedly tried to organize them and quickly gave up. It's also not clear if any of these superstars actually came into Dylan's to select their candies or if they just signed the box and told the store what to put inside them.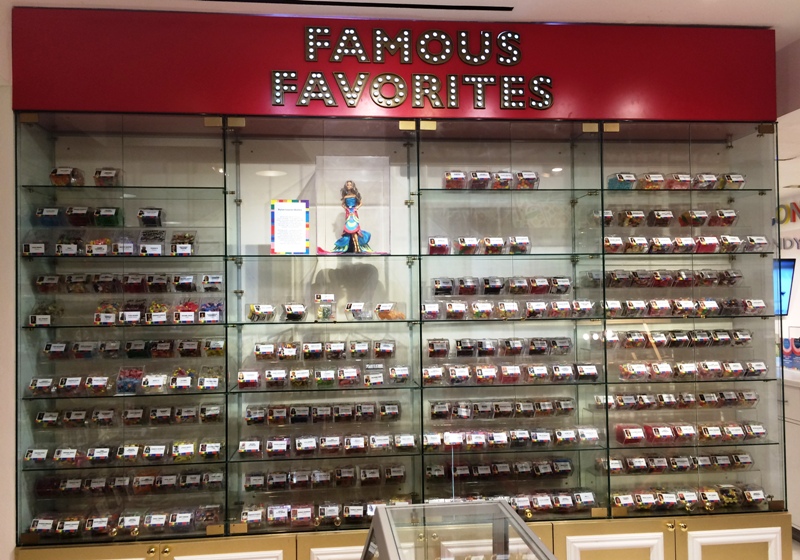 Stars of The Vampire Diaries are confined to only one box, yet the Kardashians each have their own. I wonder if it's safe to say that Stefan, Elena, and Damon have given the world far more joy than Kim, Khloé, Kendall, and Kris?
One also can't help but wonder if there was intent in placing Oprah near the top of the case and Katie Couric on the bottom shelf. We'll know for sure that someone high up in Dylan's corporate office has read this story if we see a big shake up inside the showcase.
Two sets of public restrooms: In a city where finding a toilet is a full-time job, Dylan's offers two sets of restrooms. One is on the top floor near the giant gumball machine. Another is on the bottom floor by the 3-D gummy candy maker. In both cases there are two unisex toilets.
The set on the top floor would make a great segment for the old Candid Camera television show. Everyone must walk through a door that opens into a small area with two more doors for the unisex restrooms. Since both men and women are transiting or waiting in this tiny enclosed space, it creates the illusion that you've accidentally walked into a restroom that is occupied by the opposite gender. The bottom floor does not have the additional door, so there is no confusion.
It should be noted that none of the four toilets smell nearly as good as the rest of the store.
Here are the negatives: 
A common complaint is that it's overpriced. This shouldn't come as a surprise. Dylan's is a high-end novelty store geared toward an upscale crowd that doesn't generally ask a lot of questions about pricing. At the same time, it is necessary to ask a lot of questions about pricing because almost nothing in the store has a price on it.
Budget-conscious reviewers on Yelp and TripAdvisor recommend that you only purchase unique or hard-to-find candies here and buy popular candies where they are typically sold. One Yelp reviewer humorously suggests, "If you want to shred your paycheck, at least do it at Whole Foods, where you won't increase your risk for Type 2 Diabetes or obesity."
There are consistently negative reviews of the cafe on the top floor, specifically about the quality of the food and the mediocre service. The opinions are convincing enough to prevent the author of this story from having lunch there. Admittedly, they do have tables with colorful gumballs underneath the glass tops, and that's pretty cool to see.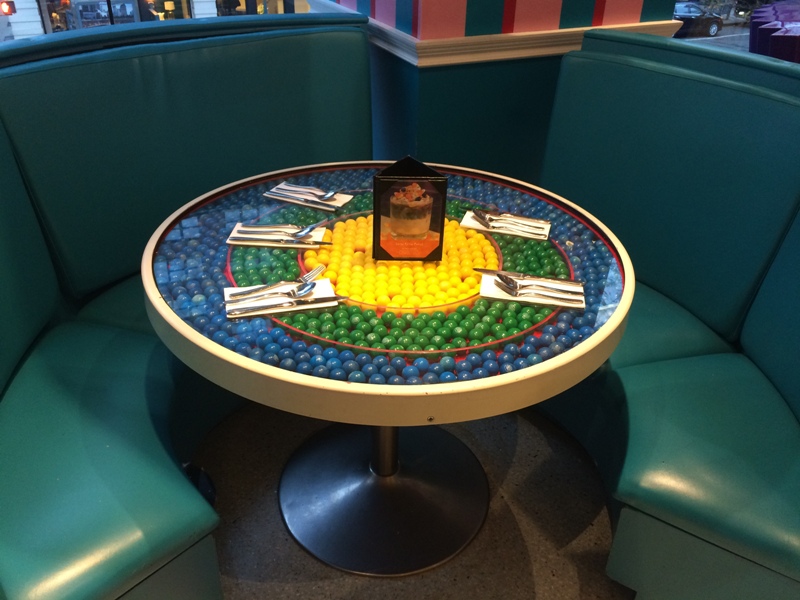 Customer service gets mixed reviews in the entire store. None of the employees seem particularly excited to be working there or eager to offer help. In Starbucks you rarely encounter a crabby barista or cashier. Perhaps it's the free coffee and good benefits. Maybe it wouldn't be a bad idea to amp up Dylan's staff with some free candy and a healthy commission on the goods.
The main floor is tight with merchandise and packed with people making it difficult to walk around.
Some have declared the entire place nothing more than a tourist trap, but that's not really fair. Plenty of people from the neighborhood spend time here; even that can be an issue. The locals are a mostly wealthy crowd, and nobody should be shocked that there are a lot of kids milling around the place. This creates potential confrontations between tired tourists, helicopter moms, and rowdy children.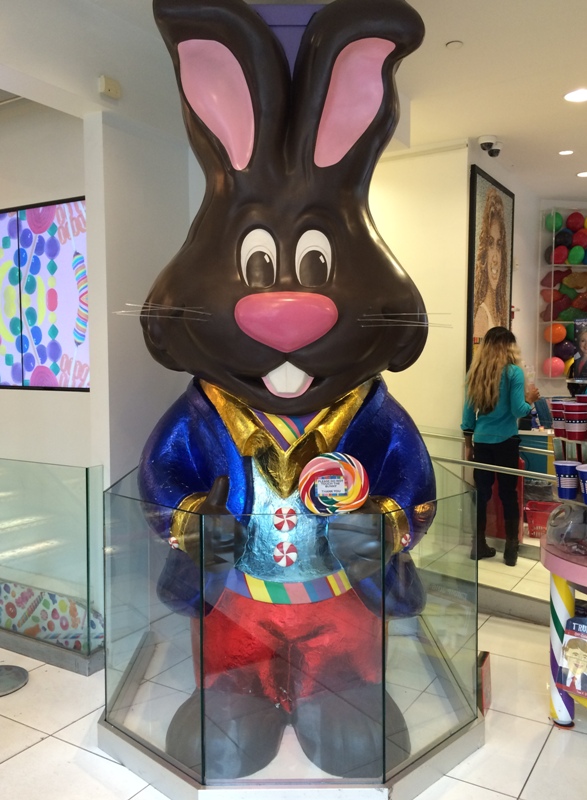 People are on both sides of the fence when it comes to the powerful candy smell wafting through Dylan's. One Yelp reviewer happily stated, "On entering the store you get such a sweet smell. It's amazing!" while another pronounced that Dylan's "smells like a child's vomit after Halloween."
Some people feel that places like this encourage bad health habits. Really? It's a candy store not a vegetable stand. No one is suggesting that you come here and eat everything on the shelves, although wouldn't it be awesome to live in a world where that was possible?
There are plenty of other candy stores that have a chocolate fountain, a fudge shop, and candy-themed music playing over the sound system. Freestanding candy stores are still uncommon but certainly not a rarity. What separates Dylan's from its competitors is the sheer size and unique decor.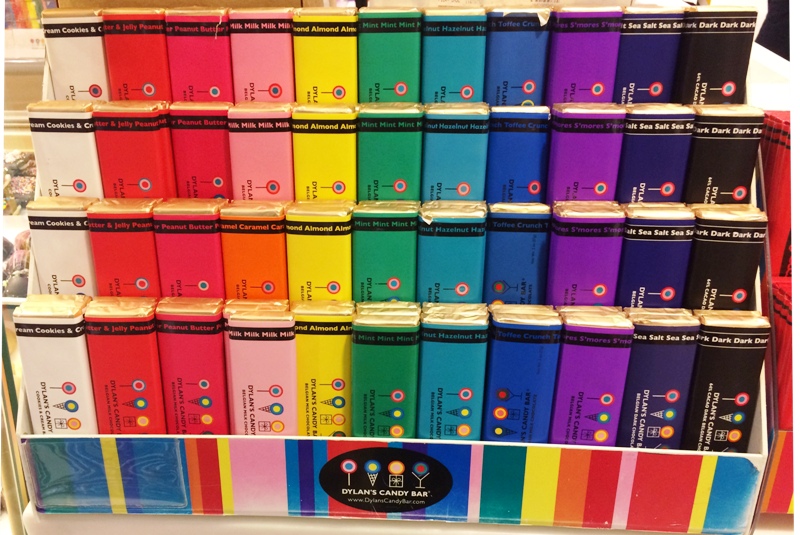 As more Dylan's locations open in other places, the novelty of visiting one gets watered down. There are countless examples of other businesses that have suffered this fate. One that comes to mind is Shake Shack. When there were only one or two, it was cool to take a road trip there for a burger and shake. Now, there are more than 100, and it's no longer an attraction.
Part of the excitement of travel is going to see something that you would never find anywhere else, and Dylan's is slowly drifting away from being a unique destination.
Here are some of the cute, cheerful candy songs you might hear while shopping at Dylan's Candy Bar:
"The 1910 Cotton Candy Castle" by the 1910 Fruitgum Company (1969)
"The 1910 Fruitgum Company" by Helen Love (2007)
"Jenny the Bubble Gum 11een (Queen)" by Rosenshantz (2007)
Here are some famous songs that you'd like to hear in Dylan's but might not make the cut:
"I Want Candy" by the Strangeloves (1965) and Bow Wow Wow (1982)
Questionable lyric: "But I like candy when it's wrapped in a sweater"
"Pour Some Sugar on Me" by Def Leppard (1987)
Questionable lyric: "I'm hot, sticky sweet, from my head to my feet, yeah!"
"Sex and Candy" by Marcy Playground (1997)
Questionable lyric: "I smell sex and candy here"
As expected, overall opinions about Dylan's Candy Bar range from gushing praise to downright disparagement. On the fawning side, one TripAdvisor reviewer chirped, "Everything (is) amazing from the time you walk in!" On the meh end, a Yelp reviewer wrote, "It's really just worthy of an Instagram photo and five minutes." The ultimate hater on Yelp simply said, "This place makes me want to hit myself with a blunt object."
Is Dylan's the world's largest candy store?
It's a pretty good bet that Amazon lays claim to that record. Oh, you mean physical structures? Or do you mean number of pieces of candy in one store? Or do you mean varieties of candy available in one store? Or do you mean annual net sales of candy? These questions matter.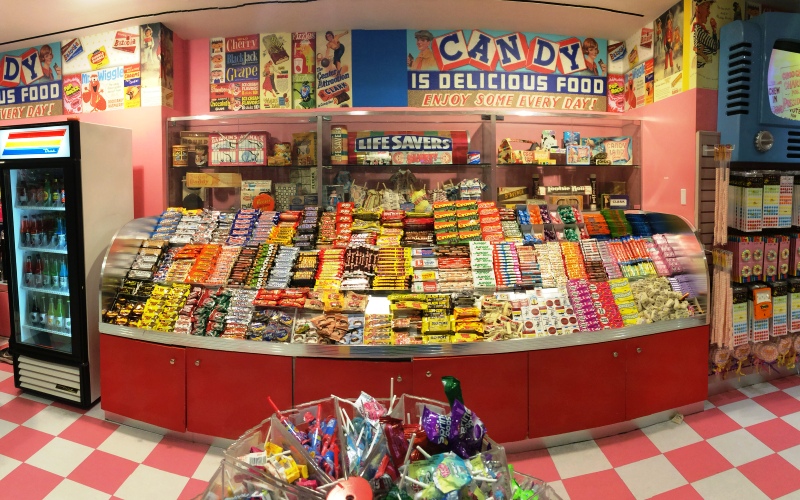 Candylicious in Dubai at one point claimed to be the largest with 10,000 square feet, but Dylan's has 15,000 square feet. Minnesota's Largest Candy Store has the top results on Google for "World's Largest Candy Store." Let the Guinness World Records moguls figure this one out; so far they haven't bothered. They are more concerned about the world's largest chocolate bar, gummy bear, and lollipop.
If Dylan's truly wants to cement the title of world's largest candy store, they should buy the Savoy residential tower on the same block and convert the entire thing into a candy condominium.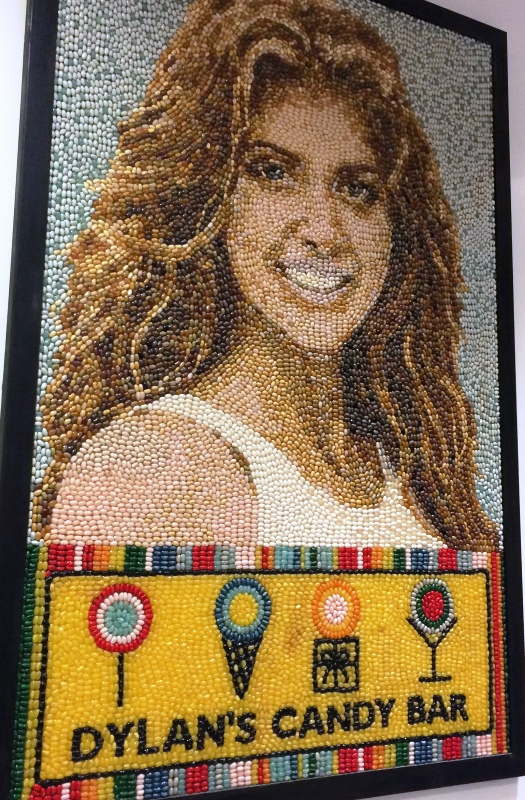 How to arrive at Dylan's via the subway staircase that's next to the main entrance to the store: 
Dylan's Candy Bar flagship store is located at 1011 3rd Avenue, specifically on the northeast corner of 60th Street and 3rd Avenue on the Upper East Side of Manhattan in New York City. The closest subway station is Lexington Avenue/59th Street on the N/R/W/4/5/6 trains.
The subway station exit that brings you directly to the front entrance of the store is most easily accessible if you arrive on the N/R/W trains. It is clearly marked "60th Street and 3rd Avenue." The 4/5/6 trains are located on a perpendicular platform, so it requires the extra step of free-transferring to the N/R/W platform to find that exit.
If you want to use what's known as the "pre-walking strategy," ride in the front of the first car of any N/R/W train heading uptown or toward Queens. Conversely, ride in the back of the last car of any N/R/W train coming from Queens.
Go up the escalator, exit through the turnstiles, turn left, and look for the "60th Street and 3rd Avenue NE Corner" exit.
Walk up the staircase and the door into Dylan's is on the right.
Or forget the whole thing and take a taxi.
A couple of Dylan's alternatives in New York City:
Many people prefer Economy Candy on Rivington St. on the Lower East Side. It's an old-school, family-owned candy store with much more character, and it's in an interesting neighborhood.
Tourists have a huge love affair with the M&M's World at 48th Street & Broadway in Times Square. They claim to have "The World's Biggest Wall of Chocolate," but again, where's the certificate? ♦