[
]
Ten years ago, I crossed paths with Joseph Marian on a trip through all of the countries that end with "stan." The following reprint of my blog entry from that time is the best way to share how I met this kind and caring man and how he helped me out in a time of need.
January 2007: I left Samarkand, Uzbekistan and headed east to the Tajikistan border. My plan was to stop briefly in the nearby town of Panjakent and find transport either to Khujand (the second largest city) or Dushanbe (the capital and largest city).
I exited Uzbekistan, which officially cancelled my single-entry Uzbek visa. Then I walked about 150 feet and had Tajik authorities stamp my single-entry Tajik visa. I wasn't in the country more than ten seconds when a taxi driver announced loudly, "Road closed!" A winter storm had made it impossible to leave Panjakent.
The first thought I had was, "If I looked into this more carefully, I would have known about this obstacle and chosen a different route." The second thought I had was, "Why didn't any of the dozen people I just dealt with tell me this?" And my third and most discouraging thought was, "It's entirely possible I'm going to be here until the spring."
I checked into what everyone told me was the only hotel in town: an ice-cold building with no running water. My room had one dim light bulb, no heat, and no electrical outlets. The toilet was located outdoors at least 100 feet away. I paid the US$20, slept under ten blankets and hoped for the best.
The next morning, a taxi driver I had met the previous day came to my door. The road to Khujand was open, he said, but it would take several hours to get there. I dreaded this ride because I knew it was on a long, snow-covered, mountainous road with no guard rails, driven by fearless, speeding maniacs.
Three hours into the ride we reached some kind of checkpoint. I jumped out of the car to take a leak. When I got back in, the four others inside looked like they had forgotten to take their anti-depressants.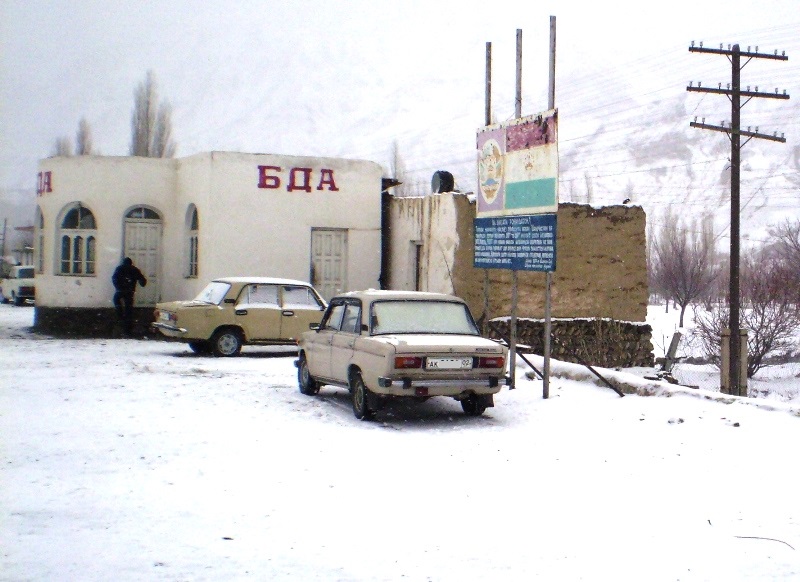 "The road's closed," the driver said. Well, he didn't actually say it. Nobody in this car spoke a single word of English. He made a universal symbol which made me cringe; he crossed his arms into an "X" to indicate "closed."
Everyone sat in silence for several minutes. Then a spirited conversation took place among the others. They all agreed to return to Panjakent rather than wait or sleep in the car, and they were waiting for my approval.
"Panjakent," I sighed as I waved my arm forward.
The car drove back to where we started. The whole day was lost, and I was back at the Hotel Pneumonia.
I was really demoralized and worried because nobody anywhere spoke English, and when I could understand them, the message was always the same: road closed, no planes, and no consulate to get another Uzbek visa. If I tried to bribe my way back into Uzbekistan, I knew that I'd be opening myself up to whole other set of problems. I was out of ideas, so I asked God for help. I figured it couldn't hurt.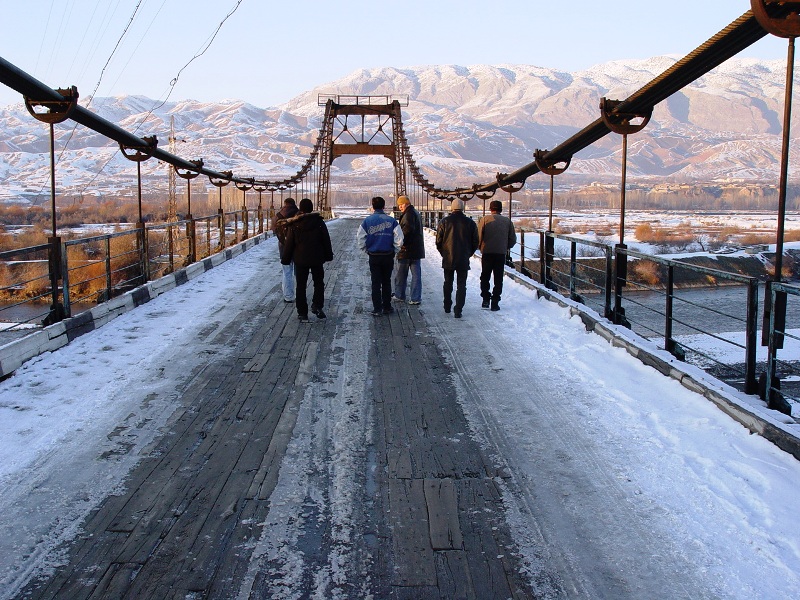 At the town's only Internet cafe there were four computers. I looked up the phone numbers for the American embassy on their website, but the calls did not go through. I sent them an email hoping they might offer some advice. Then I asked the girl who was working at the cafe if she knew anyone who spoke English.
Suddenly, a boy popped up from behind a wall and said, "I speak English!" I told him the entire story; he listened carefully and told me that he understood. "I think I know someone who can help you," he said.
He took me for a thirty-second walk to an office. Inside was a man who spoke perfect English with a slight accent. The two immediately got into a heated argument in the Tajik language, and the boy was told to leave because he had said something very disrespectful. I stayed behind and asked the still-angry man for help. He slowly calmed down, and at that exact moment I knew everything was going to be OK.
The man's name was Joseph Marian, and he seemed to know a large amount about the area. He said the road to Dushanbe would be open in a few days, and if it wasn't, there would certainly be a plane. When he heard about my hotel, he invited me to stay on the floor of his nice, warm living room. During the time I was there, dozens of interesting characters passed through his doors. I had developed a really bad cold, and everyone seemed concerned and tried to help me get better.
My new pal knew exactly how to get me on that plane, which was going to Dushanbe. He had mentioned that he wanted to go there and see a friend, and I happily paid for his ticket. What started out as a disaster ended up bringing me together with some very cool people and made for some great travel memories. Still, I gotta tell you, when I saw that soup can with wings on the runway of Panjakent airport, I nearly cried with joy.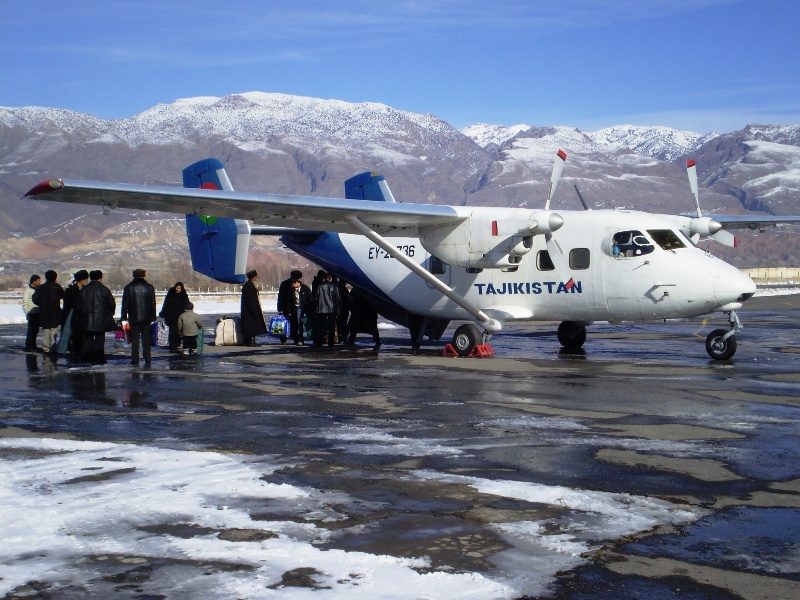 I was planning on continuing south to Afghanistan. Since Joseph had been there before, I asked him to come along with me and told him I'd cover his expenses. After a few days in Dushanbe, we headed to the border, got stamped out of Tajikistan, and boarded the boat to cross the Panj River. Before we made it to the other side, we could see the Afghan officials looking at us funny. They yelled out to us that the border was closed for the day, and they instructed us to come back tomorrow.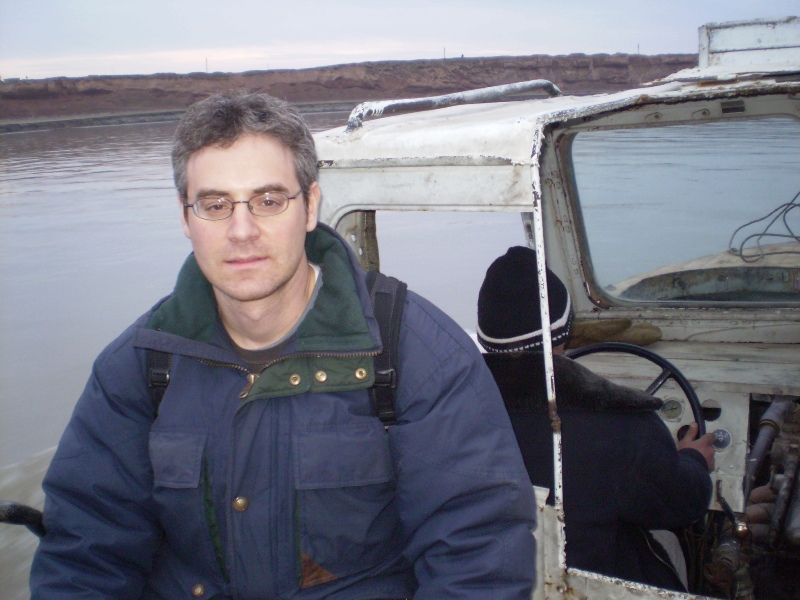 I told Joseph that I would forgive him for the oversight, but with all the money I had in my pocket, we weren't sleeping in the minibus that was next to the river. The police took us to a hotel and brought us back to the boat the following morning. Tajikistan was now behind me, but I wouldn't change anything about my visit. Sometimes, in the darkest of moments, brightness is just around the corner.
Today, he runs a thriving website called Bible in My Language. As you'll soon find out, getting there was quite an odyssey.
As told by Joseph Marian – December 2016
"I believe that if you get into trouble, it should at least be for the right reasons." — Joseph Marian
I've been traveling all my life. I was born in a village in Romania to an ethnically Hungarian family, but I never considered Hungary my country. I was confused as a kid because we were called stinking Romanians in Hungary and stinking Hungarians in Romania. That's how people were in those days. They hated us and that scarred me. I don't believe it's ever healed because, in a way, I'm homeless. Neither country is my home.
When I found faith in Christ, I realized that this world is really not our home. We have a future heavenly home, where there are no ethnic minorities or discrimination.
As a child, my parents took us on the train to Hungary almost every month to attend a church conference. My parents called it "a quiet Sunday." In those days the Hungarian-Romanian frontiers were not easy, so even as a young child I was a traveler crossing difficult borders. It was always an adventure. I learned early in my life how to smuggle things because we smuggled Bibles back to Romania. It's in my blood.
When I was nine we had to leave Romania because my father was a religious leader. If he stayed, they were going to put him in prison. So we fled to Hungary and settled in Budapest.
"The younger man pointed a revolver toward my heart and said, 'Your money, camera give!'"
Six years later, my father died in a car accident. He was in a head-on collision with another car and wasn't wearing a seat belt, so he flew out of the car and died on the curb. He had many friends overseas, and one of his best friends from Indiana wrote my mother a letter saying, "Send your son to America and I will give him an education." My mother got me an airplane ticket and sent me off to Indiana. At the time, I was 16-years-old and spoke zero English. I couldn't even ask where the bathroom was at the airport in Chicago, and I nearly wet my pants.
I wound up at a farm in southern Indiana and lived there for two years. My new family put me into high school and I sat there for the first two months like a cuckoo just listening and smiling. Everyone was my friend because all I did was smile. After two months I started to decode the language. After six months I started to excel in all my courses. By the end of the year, I learned English and made the honor roll.
I was now a Hoosier and was accepted for the first time in my life. There were not many foreigners around, so people treated me like a celebrity. I took up running as a hobby and started to run marathons. I was experiencing America at its best, and for the most part, I fit in well.
"The only thing I knew about China was that Jackie Chan was from there and they had bamboo houses, a lot of villages, and drunk Kung Fu masters."
I attended Maryland Bible College & Seminary in Baltimore. But after one semester, I realized that I was restless and thought, "I cannot do this." My calling from God was to go to Central Asia, so I packed up and moved to Samarkand, Uzbekistan where I stayed for three years.
Living in Samarkand was a slower time of life. I was living on $20 month – $10 for rent and $10 for food. But then I got into trouble for preaching. I believe that if you get into trouble, it should at least be for the right reasons. The police came to my church service, and I was arrested and taken to prison. They told me that I was no longer welcome in Uzbekistan, and I had to leave the country within a week.
By now, I had married an Uzbek woman. She and I moved to the USA and lived in Baltimore. We stayed for a year and had our first of five children.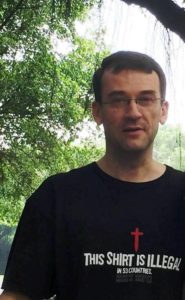 I started selling on Amazon when my son was born because I was faced with a crisis. Up until that moment, I was living as a hippie, just trusting God that everything would all work out. I still believe in that, but if you are a hippie, that is not practical.
As I was driving to the hospital in Baltimore to see my newborn, I prayed an honest prayer in my car. As I said, "Amen," I saw a sign that a bookstore was closing down and it announced that every book was on sale for one dollar. I knew this store because I had shopped there in the past, and I remembered they had expensive books.
I turned into the parking lot, went into the store, and asked, "Is this for real?"
"The owner is very old and is getting out of this business," the employee said. "Anything you find is a dollar."
It was fascinating to me because a few weeks earlier, I had bought books on Amazon for $25 and found the same ones in this store for a dollar. I knew I could buy these books and resell them on Amazon. I had $3,000 in savings, so I took a risk and bought 3,000 books. About 20% of them ended up in the garbage can, but most of them yielded a profit. In three months, $3,000 turned into $15,000. That's when I realized the power of Amazon.
My next calling from God was to go to Tajikistan, so I took my family there and lived in Panjakent. During that time, I made four trips to Afghanistan.
On July 15, 2006, in Kabul, Afghanistan, I was climbing up a hill to get some pictures of the old Soviet swimming pool and abandoned Soviet tanks. According to locals the central hill above the New City was one of the most patrolled and protected areas in the city. At the bottom were embassies, foreigners, and rich locals.
I saw two boys in the distance sitting on the top of the diving boards waiting for someone to buy chewing gum from them. I took some pictures, then sat down in the shade to rest and talk to the tired, sun-beaten children.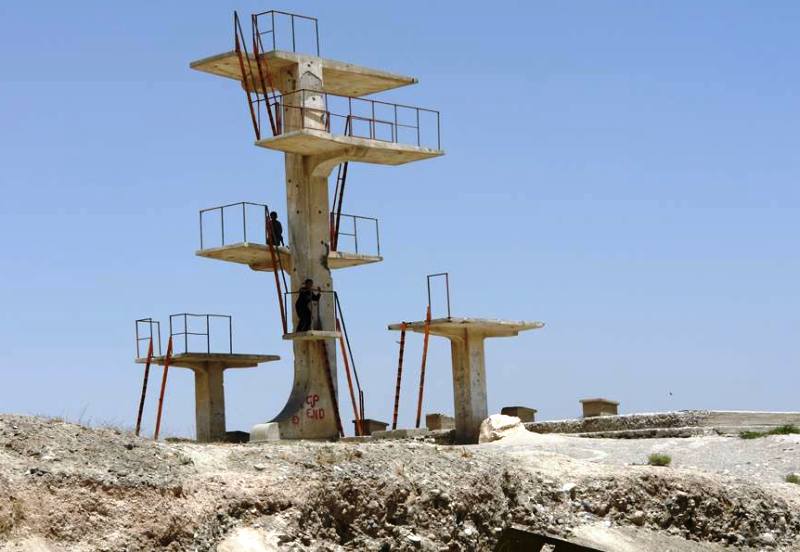 Two men quickly approached from the other side of the pool. In a few seconds, one of them was buying gum from the smaller kid and telling him in Farsi to quickly leave; the other offered me chewing gum.
I stood up and said, "Don't send the kid away. I was talking with him."
The kids halted. The younger man pointed a revolver toward my heart and said, "Your money, camera give!"
The distance between us was about one meter (3 feet). He stepped closer and lifted my camera from around my neck with his free hand.
I prayed, "Help, Lord!" and I grabbed the camera back while shouting to him, "I'm dead! Shoot me right here!" I was pointing to my head and yelling, "Shoot me! No money! No camera! Police! Police!" He pulled the trigger, but there was no response from the revolver.
He hesitated. I turned and ran toward the radio tower that was protected by soldiers. Believe me, I can run! I looked back, and the men and older boy were standing there shocked. I stopped and they were about 40 meters (131 feet) away. Then I took my camera, pointed it at them, and started clicking. The man with the revolver aimed it at me and kept pulling the trigger, again with no response.
I kept running and waving my camera while hysterically shouting, "Police!" I glimpsed back again and they were running too, but this time in the opposite direction down the hill with dust trailing behind them.
The younger kid with the chewing gum had disappeared. The older kid witnessed it all and was now sitting under the diving boards. I looked at him, and he was shaking his head as if he couldn't believe what just happened. I said, "Bio – Come on."
We walked toward the radio tower and found soldiers sleeping inside. One civilian was awake, but he spoke limited English. However, he immediately understood the situation when my little friend told him "Harob, Robbery, Revolver!" The man asked for the pictures, but when I scrolled through the screen on my digital camera, none of them were there. There was no photographic evidence.
Meanwhile, back in Tajikistan, my team of missionaries got arrested and everything was confiscated. They became late-night TV attractions because their photos were all over television. The news reports were warning everybody, "Don't listen to them! Don't take Bibles from them! They are dangerous people!" After that happened, the government kept denying my visas, so I took my family back to Baltimore.
A year later, we moved to Istanbul, Turkey, but it was a very difficult environment for missionaries. Then I was offered an opportunity to visit Pakistan. After having a vision to provide Bible education for Christians, I started Bible schools in Lahore and Islamabad, and they are still functioning today.
While I was in Pakistan, I refused to stay in a hotel and would only stay with people in poor neighborhoods. I ate what they ate and slept where they slept. That's what made it interesting. I was planning to move my family there, but my wife was unable to get a visa.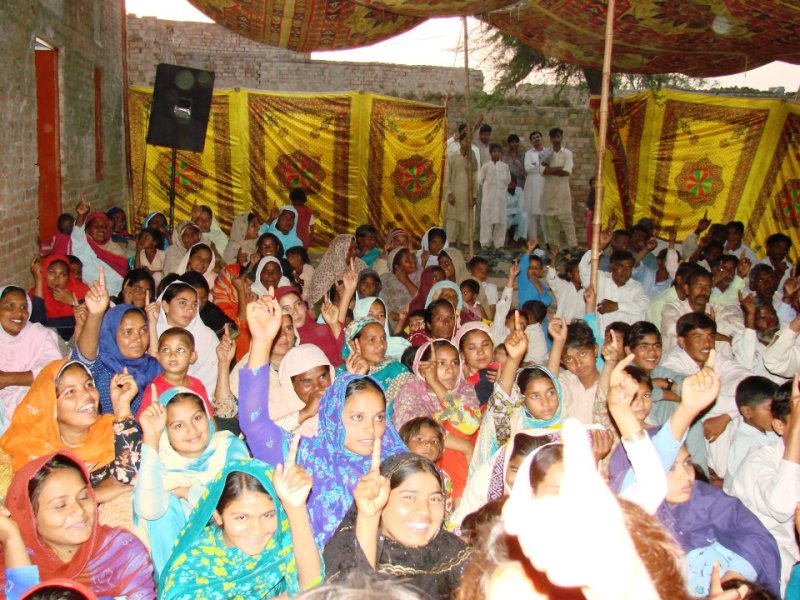 I asked God, "What is next?" Then a mission director asked me about China. I thought, "China?" The only thing I knew about China was that Jackie Chan was from there and they had bamboo houses, a lot of villages, and drunk Kung Fu masters. I never studied or understood the greatness of China.
Our mission director gave me the challenge, so I went for a visit in May 2009. Boy was I wrong! No bamboo houses. No Kung Fu masters. I found the amazing city of Guangzhou, and it was filled with people who had a hunger for the Word of God. We moved there in September 2009 and have been there ever since.
Living as a foreigner in China with five children gets a lot of attention. Everybody points at us and says loudly, "FIVE! FIVE!" Then they count our kids and shout, "ONE TWO THREE FOUR FIVE!" We learned very quickly how to count to five in Chinese.
Guangzhou has been an excellent choice because it is a transportation hub. There are cheap tickets to fly around Asia. I've now been to Afghanistan 12 times and have visited every major city from Kabul to Kandahar.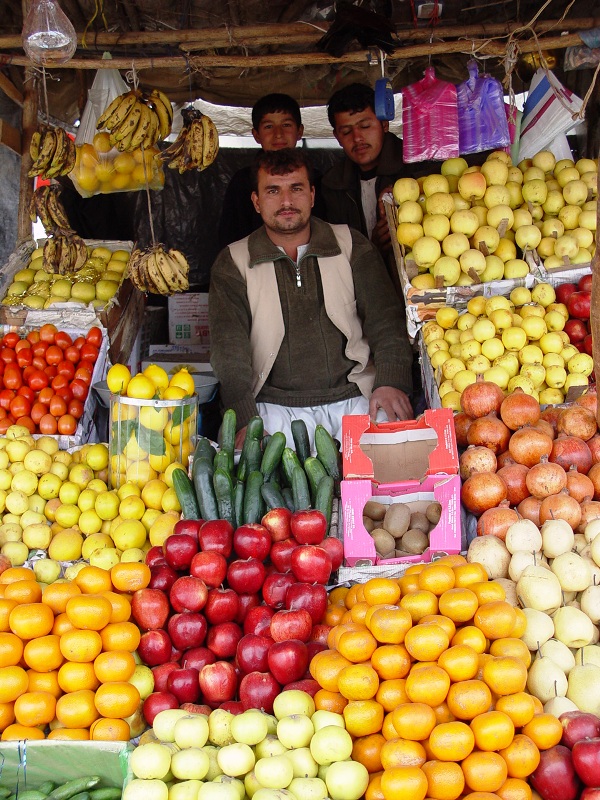 Recently, I've been focusing on Badakhshan Province in Afghanistan. That area has many ethnic Tajiks that I've connected with. I've spent a lot of time in those villages, and I have been frequently told that I was the first "white person" to ever visit. I was definitely the only outsider that spoke their language.
I believe that traveling is about the people, not the statues, mountains, or donkeys. The Tajik villagers don't read or write, but when they look into your eyes, especially the old people, there is so much wisdom. I just love to sit and listen to the shepherds talk about their observations and way of life.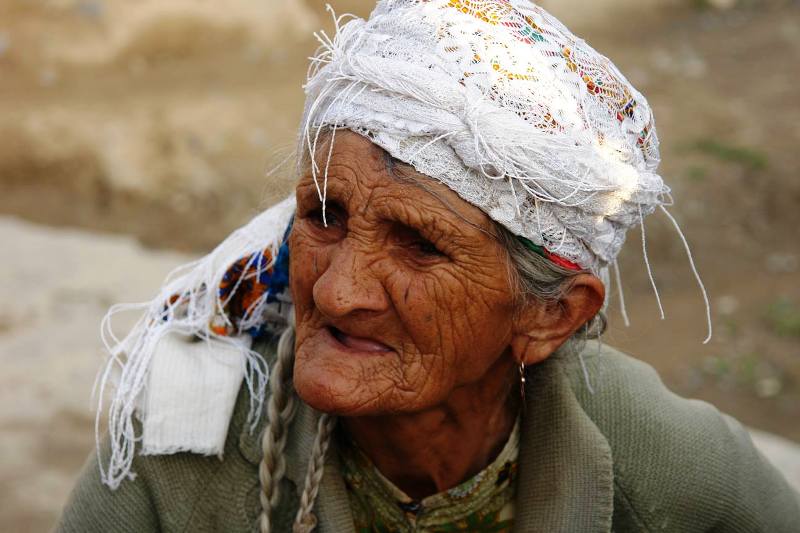 I used to give the villagers money, but it didn't improve their lives. When you give money to the poor you lower their dignity. The people need someone to teach them how to do something with their hands through vocational training. When people earn money with honest work, they appreciate what they have, and their dignity is elevated.
I discovered that Russian Bibles sold easily on Amazon. I began to invest in Bibles, and soon I had 20 Bibles in 20 languages that nobody else was selling. My business grew and grew. Three years later, I had Bibles in 200 languages. My travels in restricted countries like Iran enabled me to make Bibles available for Iranians living in America and all around the world. I did the same thing for Armenians, Turks, and Uzbeks.
The challenge in running my business is the grueling travel that is involved. Sometimes when we need a certain language really badly, I send people I trust to fly into the country just to get them. These days, I make a circle around Asia almost once a month and pass through the Philippines, Singapore, Malaysia, Bangkok, and sometimes Indonesia and Vietnam.
"I learned early in my life how to smuggle things because we smuggled Bibles back to Romania." 
The most difficult Bible I ever tried to get was the Dzongkha language of Bhutan. They are totally out of print. I met a guy who said he would bring them to me. I gave him the money, and I was sure he would disappear. A year later, I got a message from him saying, "Hey, your Bibles are here!" He only got six, but had gone from house to house and hunted them down for me because he wanted to keep his promise. Some were secondhand, but we still got them. They are selling for $150 and I have two left. I didn't lose any money on the deal. I never lose money.
The reason we are prospering is because The Bible Society and other Bible publishers are working with the old business model. They only concentrate on local sales and don't like to take risks. We are focused on worldwide sales and are able to reach millions of people on the internet.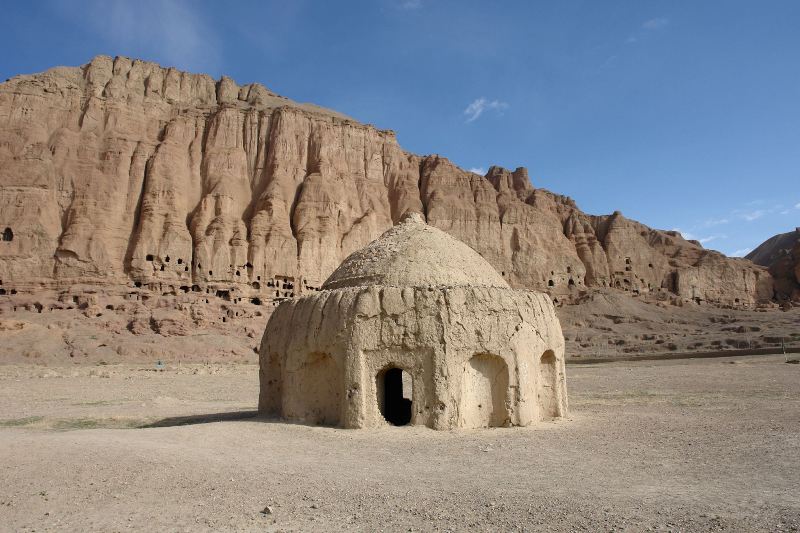 Our website also sells maps from all over the world. It is illegal to ship maps out of Pakistan, so we take them out of the country and resell them. Harvard and Apple have bought from us because we have very special maps that are not available anywhere else.
Digital Bibles have had a huge impact over the past 2 years. Until that time we were flourishing. We have seen a drop in sales but continue to expand our range of products, so we are able to make up the loss.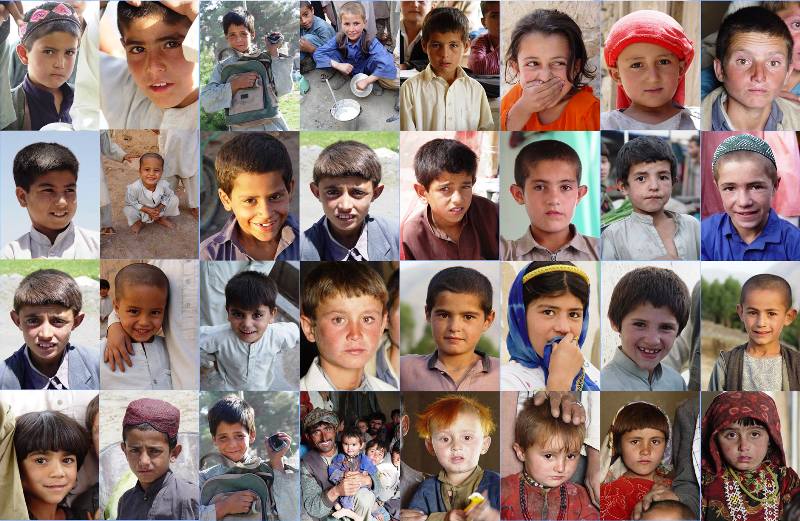 Editor's Addendum: By Larry Schwarz 
When I informed Joseph that I was going to Eritrea in February 2011, he told me that he would help pay for the trip if I would bring him a couple of boxes of Bibles from the Eritrean Bible Society. He extended this offer because he was unable to find anyone who printed or sold them. It sounded simple enough to me, except for the part that the place had no known address or contact information.
I arrived in the capital, Asmara, and recruited a local woman to help me find the office. A few hours later we found it hiding in plain sight in the middle of the city. To add to the hassle, the people working there refused to sell me any Bibles at all and wouldn't offer an explanation. Eventually, with great patience, I was able to plead my case and got two boxes of them at a bargain-basement price.
My job was now to get the Bibles on a plane to Egypt and get them into Joseph's hands, which I eventually did. The trip cost him a lot of money, but he ultimately sold every one of them and made a healthy profit. ♦